Pet therapists spread joy at the Karmanos Cancer Center (reprinted from www.karmanos.org)
The attractive young woman had already spent more time than she could remember being in the hospital. Now she was about to celebrate her nineteenth birthday on the fifth floor of the Karmanos Cancer Center in midtown Detroit. Feeling blue and needing a pleasant distraction, a 54-pound, three-year-old volunteer named Ada came her way. Ada, an auburn haired field retriever, was visiting the Cancer Center with her owner, Heather Dobzyniak. Their visit with Leslie Clemons of Detroit was just as Coordinator of Complimentary Therapies, Kristine Frias had hoped; Ada brought a smile to Leslie's tired eyes.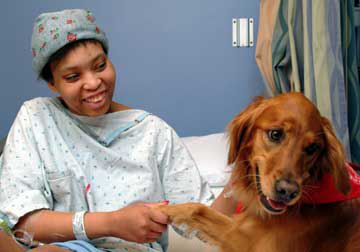 Ada and Heather are part of "Tails of Joy," a new program at the Center. The Tails of Joy program utilizes "pet therapists" to reduce the anxiety of oncology patients in the hospital setting.
Pet therapists are animals that have successfully completed pet therapy training and have met guidelines set forth by Therapy Dogs Incorporated, which was founded by Wyoming residents Jack and Ann Butrick in 1990 and provides registration, support and insurance to volunteers. The objective of Therapy Dogs is to form a network of caring individuals who are willing to share their special animals to bring cheer to patients in a variety of environments. Therapy Dogs has grown into an organization of seven thousand members in the United States, Canada and Puerto Rico. Pet therapists are certified for good health, temperament, people manners and obedience through Therapy Dogs Incorporated.
The goal of Tails of Joy is to provide patients a normal leisure experience while hospitalized. When patients interact with the dogs, spending time petting and brushing them, they reminisce about their own experiences with pets, recalling positive experiences. That was the effect Ada had on Charlie Hampstead of Parma. Ada reminded Charlie of a golden lab he had once owned as well as the five cats waiting for him at home. A bit reserved as Ada approached, Charlie soon warmed to the dog's gentle attention. Ada seemed to know how assertive to be with the patients she visited, adjusting her behavior to the patient's response.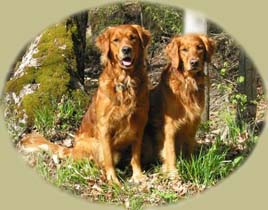 The patients Ada visited had been referred by the Center's professional staff and were selected to address any conditions that would be compromised during the visit. Patients or their representative must sign a waver before the pet therapist's visit.
Ada's owner, Heather, a nurse herself, said that she and Ada enjoyed their time at the Center. "Bringing Ada to visit the patients here gives me a chance to give a different kind of care" Heather shared. A third patient, Doris was appreciative of the special care that Ada brought. At the end of the dog's visit, Doris thanked Ada for "making my day."
In the Metro Detroit area, pet therapists are certified through Dr. Paws, an affiliate of Therapy Dogs Incorporated. For further information go to: www.drpaws.com or contact Dr. Paws by phone at (248) 888-7488. To view this complete story and photos, visit http://www.karmanos.org/view_news.asp?id=227
Above left, Ada greets a patient in her role as a therapy dog. Above right, Cooper JH WC (Speaker x Whiskey) and Ada JH WC (Speaker x Daisy) pose for a photo. Cooper is working towards his Senior Hunter title and Ada needs only one more Senior pass to title.