A Speaker Kid . . .
Lord Tristan Buddy and Dorothy
Mr. Speaker is pleased to introduce you to his son "Buddy" and Buddy's pet Dorothy. Buddy is the first of the family to be a stellar success in New York City! Not every dog who goes to the Big Apple can claim such success as this one. Buddy lives in Brooklyn and is being trained as a hearing service dog for 8 year old Dorothy (pictured below with Buddy). Dorothy has profound hearing loss in both ears and will benefit greatly from Buddy's companionship as he progresses through training. Buddy is from the Speaker x Bailey (December) 1998 litter.
The following comments are from Dorothy's Mom Millie...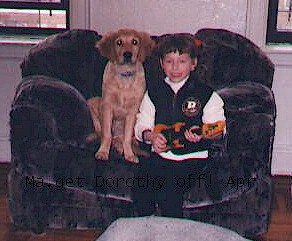 Buddy is a solid member of the family (as you can see by the photos of him on the couch). He figures we sit on it... why shouldn't he? The smaller couch by the window became his bed! I know he is spoiled, but that's OK! We love him very much.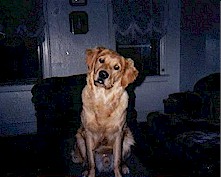 Buddy is 23.5 " tall and 68 lbs. now. Smart doesn't do him justice. He understands so much of what we say to him that it's amazing. He doesn't forget anything he learns at all. Mr. Speaker has a son you can all be proud of!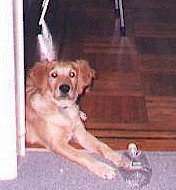 Buddy is doing well in his obedience training and also his "Alert" training with Dorothy. We do have lots more to do, but I don't want to rush him. He has a great personality and his bond with Dorothy is very strong.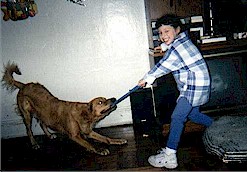 Buddy plays with Dorothy like he is another kid or she is another pup. It's really a sight to see! If she dances, he moves along beside her like he is dancing too. Sometimes she runs and skips across the room and he does the same thing right with her. It's so funny to see him skip!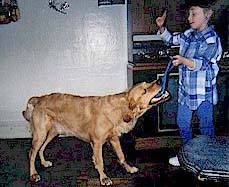 When Dorothy is watching TV, Buddy goes behind her, hits her with his paw... and if that doesn't get her attention, he grabs her braid and pulls until he gets the hair tie in the end to fall off, then runs away with it! Then she chases him. When he wants me to play, he throws his toys at me with his mouth!
Good luck and greatest success to Buddy and Dorothy... from the Speaker family!