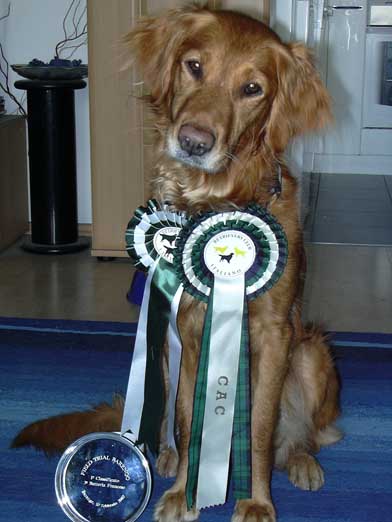 Just wanted to let you know, that Speaker's daughter Blazinlake's Olympic Fire did a remarkable job on a Field Trial francese held in Italy, Barengo.
Chilli WON on both days (10th and 11th February) earning two times the CAC!!!! I am very proud of her and am looking forward to this year's working Test season, starting in April...Thanks for such a great dog.
Alessa Krafek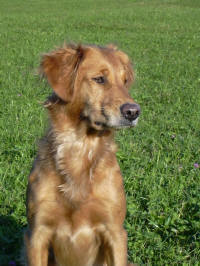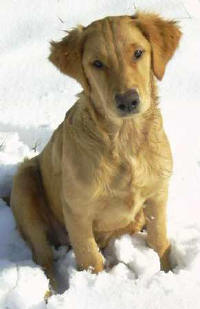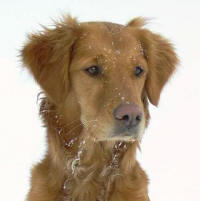 I wanted to tell you the story of my Speaker kid called Chilli (Blazinlake's Olympic Fire). When I got to hear from Speaker first, I knew that he was the stud I'd like a puppy from. Of course to find breeders from overseas (Europe) is not that easy. But I found a litter with Speaker at Blazinlake's kennel and was very happy to get the chance of such a wonderful pup. And it was the best idea I have ever had.
Since Chilli stepped in my life, I am that satisfied with her and training with her is so easy and joyful. In her first year of competing she earned the following honorifics:
1st place in puppy class out of 19 dogs
6th place in novice class out of 54 dogs
3rd place in novice class out of 49 dogs (Qualification for the finals)
3rd place in novice class out of 22 dogs (Qualification for the finals)
4th place in novice class at the Austrian Working Test Finals
We are looking forward to run next year in the intermediate class and get some more good results. The pictures I enclosed show her from puppyhood till now.
Many greetings from Austria and Chilli who will be enjoying the coming hunting season...