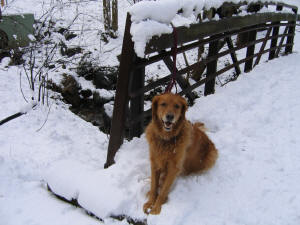 Just wanted to take a minute to update you on the world travels of Dame Sabre Dominika (Minka), from the May 2000 litter of Speaker x Princess Tequila Monster. Minka and I never dreamed when she was a pup that instead of discovering the world of dog fancy, we'd be discovering the world up close and personally together! Since then, my career as an American diplomat overseas has taken us to Armenia, Israel, and now to Germany.
Minka has also brought her own style of canine diplomacy to Egypt and France. Breeding has been out of the question since we learned we were being stationed in Armenia (the large packs of feral dogs in the capital city made it unsafe to bring an unspayed female there), but Minka has done very well with obedience work and her retriever skills are as sharp as ever. She may also be the most multi-lingual of Speaker's kids, since she's had to learn her obedience commands in Russian, Hebrew, and German (and understands French and Armenian to boot.) Most of all, though, this beautiful and loving girl has been a true ambassador everywhere she's lived. People in Armenia, who tend to be shy of dogs, were amazed to meet such a well-behaved, friendly dog.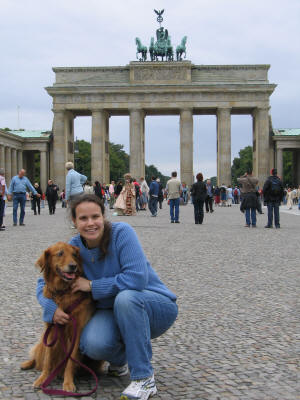 Although goldens are fairly popular in Israel, they are very pale in color and aren't often used in hunting. I stopped counting the number of times breeders approached us on the street and asked if Minka might have any pups available. (I also stopped counting the number of people who asked if she was an Irish Setter - they're really not used to the field golden's red coat!) Germany has been her favorite posting so far, though - a well-behaved dog is welcome just about anywhere here, and so Minka has been to restaurants, museums, castles and cafes, and has learned to ride the subways and trains like a pro. I'm attaching a picture of her in the snow we've finally gotten here in Europe, as well as one of her in front of the Brandenburg Gate in downtown Berlin. There's a strong dog fancying culture here, and we may yet look into agility training for her (at 6 and a half, she still outruns the adolescents in the park). Regardless, although her "career" hasn't been at all what we had expected, Minka is enjoying her international lifestyle, winning over the hearts of people all over the world. We couldn't ask for a better representative of America - or a better companion.
Warm regards, Ruth Anne Stevens and Minka