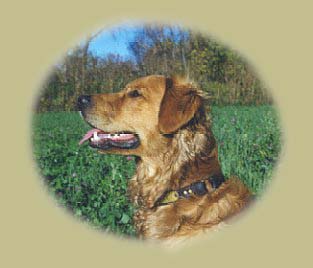 Pup of the Month - Dec 1999
"Ott'r"
OTTERBROOK'S OTT'R BE IN IOWA JH
Speaker x Otterbrook's Bonnie Breeze MH
We're happy to be able to provide this update on Ott'r, owned by Steve Bullard.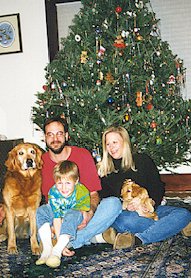 After the death of their first golden - Peter - Steve and Jean began searching for a new pup. That's when they came across Speaker! Their search for a Speaker pup led them to Joanne Mambrino of Otterbrook Goldens.. "We picked up Ott'r at the Des Moines airport Dec.7th after a hand-wrenching 5 hour delay in Cincinnati OH. We expected a quivering mass huddled in the back of his crate. NOT! Out bounded Ott'r and our lives have never been the same."
(Right) Steve, Jean, Matt, Wyatt (far left) and Ott'r Bullard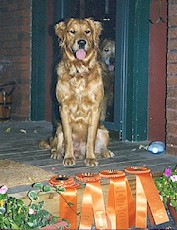 Steve took Ott'r through both puppy kindergarten and sub-novice obedience starting at 8 weeks. Field training began as soon as weather permitted.
"That is when I realized just what I really had on my hands. He is a joy to train and early training went well. We increased his marking ability by introducing him to as many different situations as we could. He went through force fetch without too much trouble and we then started lengthen out the marks. We didn't expect to run him this fall but he was ready, so I plunked the money down and we were off to the hunt tests. He passed four straight after going out in the first test in the last water series. He got his JH at 11 months on Sept 26th in Horicon WI with style."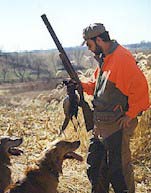 Ott'r is now starting to run lines, working on multiple marks and diversion birds.
"We are about to break for hunting season and hope to be running senior next spring.
We are in love with Ott'r and he has become a big part of our family."
(right picture)"It doesn't get any better than this!"
New Photos submitted October 2000:
"We are now training for Master, have our JH, the Derby JAM and one Senior leg. We hope to finish Senior next Spring after hunting this Fall. Master in the Fall of 2001. It takes alot of time and dedication to bring a retriever to the master level and I must thank my training partners Jean, Matt and Keith Stroyan who have stuck with me through it all. Thanks also goes to Lorie/Speaker, Joanne and Virginia/Breeze for without them we would not have Ott'r."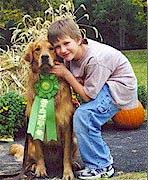 Matt and Ott'r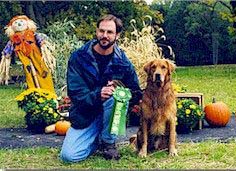 Steve and Ott'r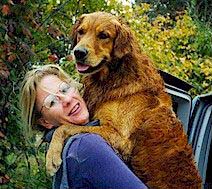 Jean and Ott'r