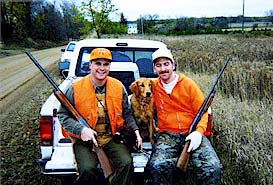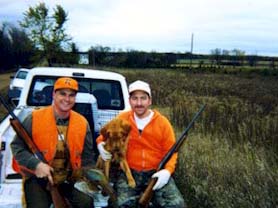 Tom Shepherd of Roanoke, IN (left) and Phil Tuckey (right) of Ft. Wayne, IN
Tom and Brenda Shepherd sent in this note and photos..." These are two shots of Spencer's (Deerwood's A Little Something) first pheasant hunt (Oct. 99 in Michigan) at 6 months old. He learned a lot hunting with two experienced Springer Spaniels."
Here are a few pictures of Spencer (Deerwood's A Little Something), owned by Tom and Brenda Shepherd (Indiana). The empty orange juice container is one of Spencer's favorite toys!