CT MACH Tanbark's Fireworks of Tailwind VCD 4, MXG, MJG, RA, SH, T2B, WCX, ADHF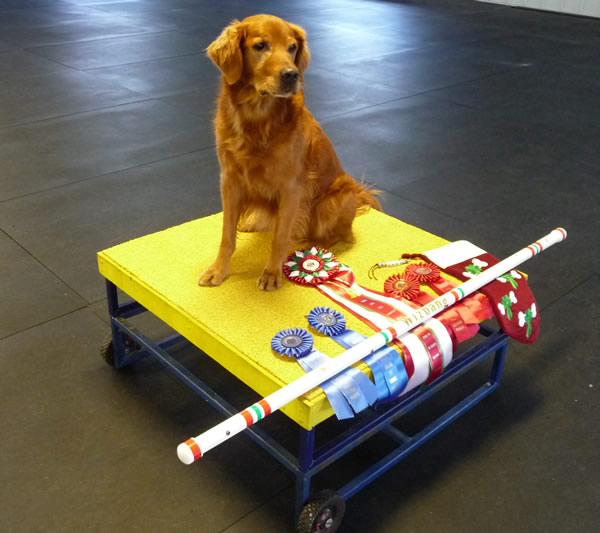 Wizbang got his MACH at Hounds for the Holidays in Milwaukee on Dec. 8, 2013! What a great job he did!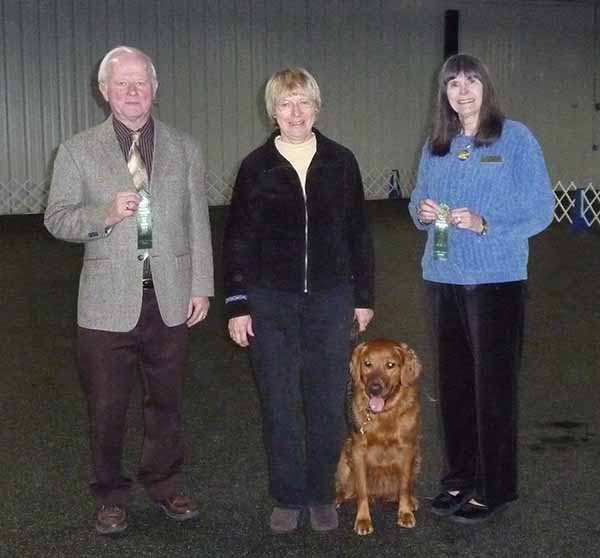 Wizbang gets his first UDX leg his first weekend out in the "B" classes! He also gets the prize for the best kill of the glove in Utility! He shaked it about 3 times on the way in just to make sure it was dead!!
Wizbang finished his UD April 24, 2010 and then completed his SH on May 8, 2010!! Whatever the game, just call his name!
Wizbang is all about living every day to play. He needs to run, he needs to play commando with his nephews, he needs to "get" boo-boo, the gigantic bouy ball and spin in a circle with it, he needs to work just for the sheer joy of interacting with me, and he needs to get hugs from the ladies! What a hoot it is to spend each day with him.
The UD also makes him a VCD 3!! Tanbark's Fireworks of Tailwind VCD 3, MX, MXJ, RA, SH, WCX
You Rock Wizzy!!!
Barb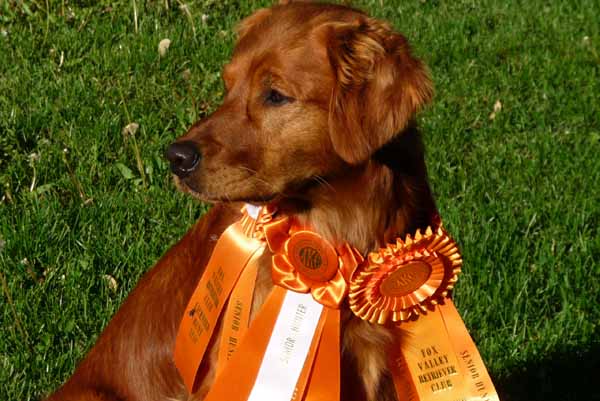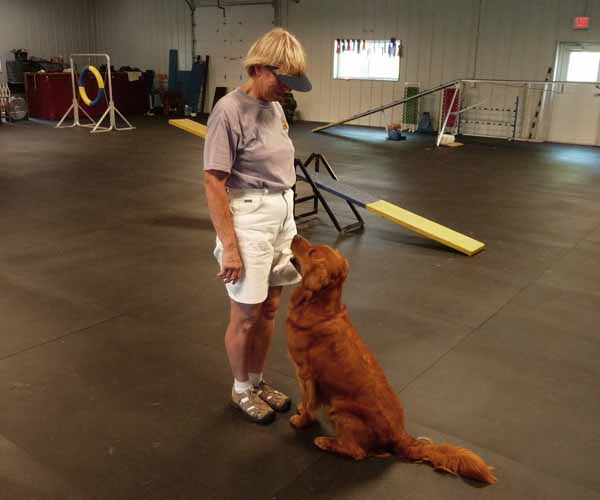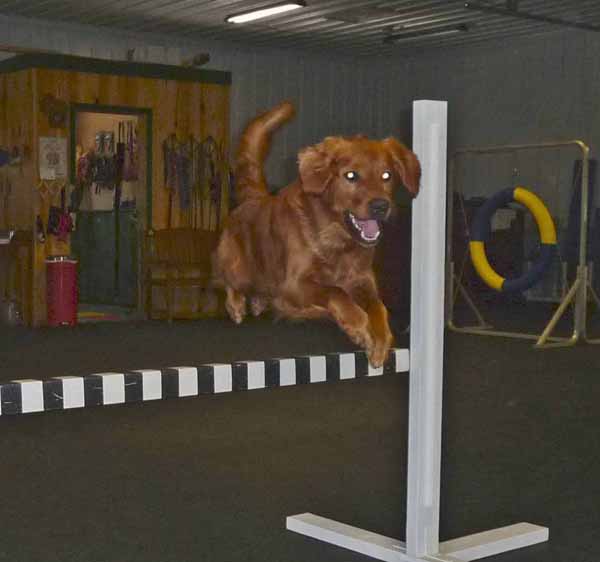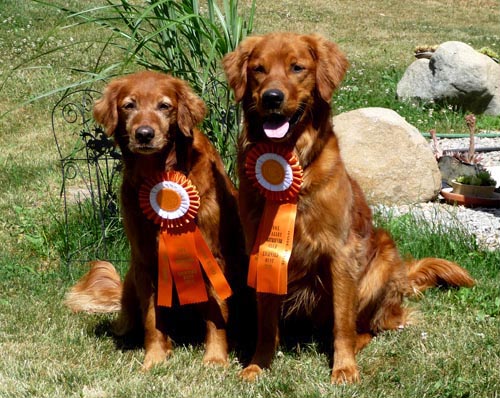 MACH 3 CT Tailwind's Beatsfeetn Boogie VCD 3, RA, JH, WCX, ADHF and Tanbarks Fireworks of Tailwind VCD 2, RA, TDX, JH, AX, AXJ, WCX 2 Speaker kids get their first Senior pass at Fox Valley Retriever club, Kenosha, Wi. on Sunday July 12th. This would never have happened without the insight of Lorie. These 2 dogs were trained without an E-Collar and totally with Lorie's book and phone # in my back pocket! My thanks to her and her unending patience in improving my handling and sharing my belief that the relationship with my dog comes first and foremost on the training field. We continue to improve, and the Senior title is within our grasp!!! - Barb Mattheis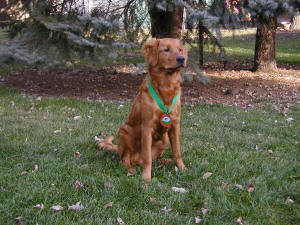 This is Tanbark's Fireworks of Tailwind TD pictured with his TD medallion from the Pecatonica Tracking Club's Tracking test on Dec. 10, 2006. He blasted his 440 yd track in 3 min through the snow at Rock Cut State Park, Loves Park, Il. He was all business when I put his harness on, even though he was schmoozing with the judges just moments before. I was wheezing trying to keep a firm grip on the tracking line while still remaining on my feet in the snow. This guy will be on to his TDX in no time, as he loves the game of tracking. He had his first tracking lesson when he was 3 1/2 mos old, and by his 4th lesson at 4 mos old, he was doing turns. We call him the "natural"! So with 3 mos of tracking under his belt he got certified, and one month later he passed his TD. What a cool dog! Thanx again Speaker for this natural talent!
Owner: Barb Mattheis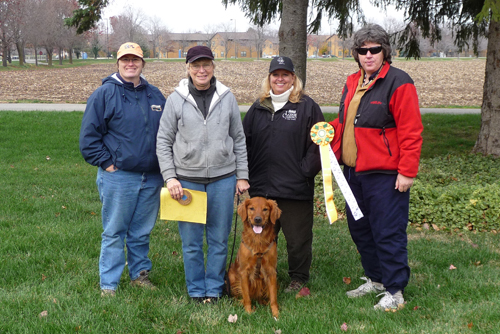 Wizbang earns CT (Champion Tracker) title at the University of Illinois in Springfield, Il. at the Capitol Canine Training Club's VST test on Nov 20, 2011. Focused and determined from beginning to end, he did an awesome job on the track. He is such a great dog, and I am so lucky to have him as my teammate in all the sports that I do!!
Thank-you for breeding this wonderful dog.
CT Tanbark's Fireworks of Tailwind VCD 3, MX, MXJ, RA, SH, WCX, ADHF DOB 5/10/06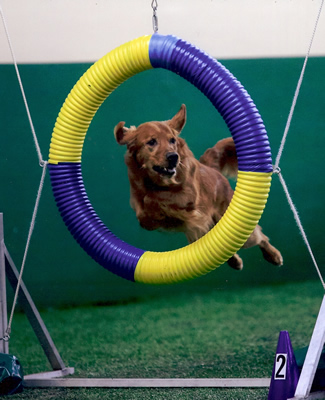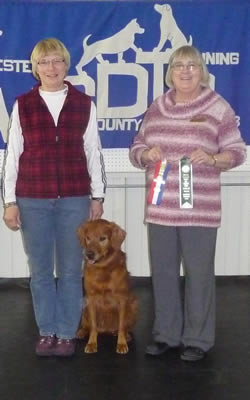 Wizzy earned the Silver award for MX and the Bronze award for MXJ. They read:
CT Tanbark's Fireworks of Tailwind VCD 4, MX, MXs, MXJ, MJB, SH, RA, WCX, ADHF.